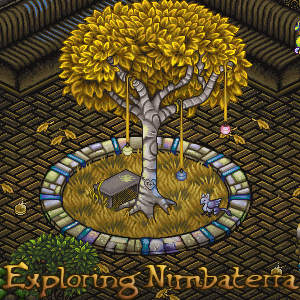 Today's update is for the folks who follow my blog but who have not played, or even heard of Furcadia. Furcadia is an online fantasy world where artists and coders can use their skills to build their own housing, which are known in Furcadia as dreams. You hop into user-uploaded dream portals and are warped to an area created by the uploader. These can range anywhere from small personal homes made with default patches to entirely custom worlds in any kind of environment you can think of.
The community on Furcadia has been gradually shrinking over the years, but the work I've done for our own roleplay community has been intensive enough to build a whole other universe out of. All of the art, and the majority of the coding, I put together solo over the past decade. There are small quests, stories, and lots of tucked away places to explore. The name, Club Nimbus, refers to a tavern on the central floating island of Nimbaterra where the majority of our stories take place.
As we've drifted away from the Furcadia community, some of the names of various places in our world have changed. Club Nimbus is now known as Cloud Nine, the same tavern where bartender Skye Rufflequill serves beverages and the Cirrus Cartel do their shady work. The lower lands, or Isle of Zephyr, is situated in the middle of the sea. Tacoma and Lunati grew up on the Isle of Zephyr before a massive storm ravaged their home. They took to the skies together and founded Nimbaterra, where the Cloud Nine tavern and a port town were built to accommodate trade in the area.
This week I wanted to show some of the work I've done for this world of ours, as we're continually roleplaying and building onto the existing lore. This is home to our characters, and a lot of love has gone into it.
For more information about the different areas and rooms in Club Nimbus, check our roleplaying site.